Music News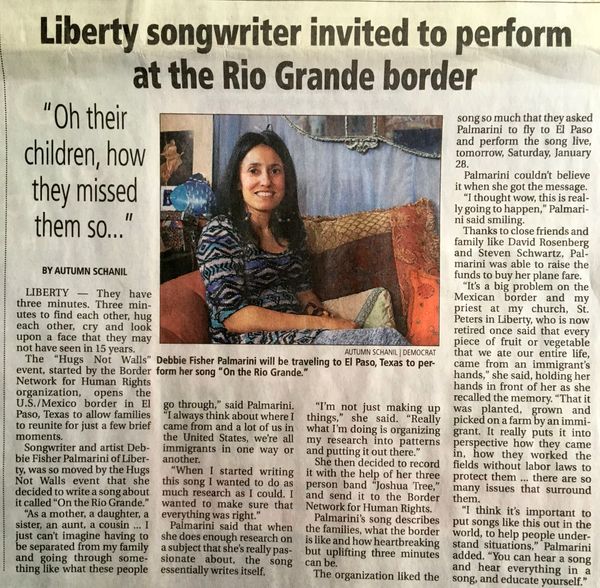 On the Rio Grande Lyrics ~
They walked along, the Rio Grande, In the fall, in the mud and trash 
the open wall, gave them a chance, To unite with family on the Rio Grande 
One of the couples 13 years ago, Was deported, back to Mexico 
Oh their children, how they missed them so, & they walked in hope, on the Rio Grande
Chorus: 

On the Rio Grande, the dried up riverbed, For a little chance, oh the tears they shed 
The spirit man, it was love that led, & now here they stand, on the Rio Grande 
                                                            (2nd) & now they ran across the Rio Grande 
200 families, gathered there, For three minutes, well aware 
They embraced in joy, because they dared, To seize the moment on the Rio Grande 
You can draw a line, in the sand, With the law, of the land 
But it's not that simple, with love in your hand, & they seek to find, at the Rio Grand 
Repeat Chorus 
One side wore white, the other blue, So Border patrol, knew who was who 
Soon the time was up, they put back the fence, But on the Rio Grande, the Blessing went home with them 
Then they walked on home, along the Rio Grande, In the dried up riverbed, in the mud and trash 
For the open wall, gave them a chance, To hug their family, on the Rio Grande 
& the Blessing went home with them,, on the Rio Grande 
& the Blessing goes home with them, on the Rio Grande 
& the Blessing is home with them, on the Rio Grande.
For more info on Border Network for Human Rights:
http://bnhr.org/ 

To hear more of Deborah's Music, visit the Store!
Bnhr's Official Video from the 3rd "Hugs Not Walls Event":
You can hear a little bit of me singing at the end!!!
Why are families separated? 
On March 16, 2017 I had a phone interview with Professor Josiah Heyman, UTEP Border Studies (University of Texas El Paso) to help answer the question: Why the separation of families? Here's what he had to say. 
Along the Rio Grande, people were connected for centuries and were able to pass freely back and forth. Change began in the 1910's & 1920's when Mexicans needed a Visa to come to the US. Even then, people were free to go back and forth in the South Western part of Mexico without special permission. 
In 1942 the Bracero Program began. Bracero means arms, referring to 'arms of labor'. The Bracero Program was a non-immigrant, highly controlled, very exploitative but also still legal and open temporary labor program between Mexico and US. The Bracero Program was ended in 1964 by the US. The reason most of the people crossed the border - as few of them had families in the US - they didn't have visa's to live permanently. They were coming to the US to work and earn money. 
In 1965, the US increased access to legal immigration, but it did not cover sufficiently the pent-up demand from Mexico. Those same people that still needed that work depended on that income, and had relationships in the US. "It wasn't like they were just doing this on their own. They had connections to employers and connections to areas in the west where they knew there were opportunities and so they just started to come crossing whether or not they had documents. So the beginning of undocumented immigration is the most important moment starting up to the edited documentation of legal temporary residents." "Legalized migration happened in 1965, we know that because we collected their personal histories such as race, but changed their status to 'documented.'" 
"In 1986, the US passed IRCA. Its most important feature is that it targeted legalized people which were either coming back and forth or already living in the US, outing legalized immigrants. And that's important because, that occurred 30 years ago and that means there has been an accumulation for various reasons of people who have never had the opportunity to go back and forth." 
"This is not a tremendous army of people, it's about 3% of the population of 300 million that were stuck in the US who can't go back and forth. That means there had been 30 years." 
Then in 1993 right at the El Paso border, a program-specific tactic was introduced, and in 1994 it spread to California in south San Diego County, and then later to Arizona and then to Copal, TX, called Operation Blockade. Border police were placed right on the front line and kept people form crossing to be with their families or going to work in easy safe places. Operation Blockade killed people by driving them into the desert to cross, which was much more dangerous. 
The government knew, and expressed the strategy that geographic danger existed. It was necessary to try and block their crossing, which didn't succeed - it just killed people. It also made a lot of money for human smugglers. 
Eventually, people stopped going back and forth as often. "Circular" migrants might go to work in a restaurant in Phoenix or Chicago, but their family could stay in Mexico. They could easily go back and forth if an elderly relative was sick, or to visit their parents and children. Families were relatively together. However over time, it became much more risky, expensive, and dangerous to cross the border, so they began to stay on the US side or Mexican side. 
That explains the "Hugs No Walls" event. 
People are excited to reunite at the border, because if they're in the US but they're undocumented, they can't afford the risk of going to see their family members in Mexico, because they may never get back. If they have children, perhaps children born in the US, parents can't go see their grandchildren, because parents who would be taking them to visit over the border, can't go back and forth without being arrested. 
The US policy that was established in 1993 has trapped millions of people in the US, and prevented them from seeing their families. 
Migration often focuses on work and economics, but there is another aspect. People migrate for love. Romantic or family member love, they have strong feelings of connection and bonds to other family members. Our immigration policy does not provide an adequate number of Visas for these people for work or love. 
Lethal force shouldn't be used unless you or another person was in life-threatening danger. This death was a failure on the border patrol and inspired a group of El Paso lawyers to create bnhr.org some 15 years ago. 
Thanks to the Border Network for Human Rights organization, families are being united, and receiving legal support. Visit www.Bnhr.org for more information. 
Thank you to bnhr.org members: President Fernando Garcia, and Communications Director Gabriela Casteaneda for inviting me to sing this song on the border at your third "Hugs Not Walls" event, allowing me to take footage and create this video for public awareness. Also, thanks to Josiah Heyman for this interview and his son Robert Heyman who works for bnhr.org for his help at the event.
Exclusive Live footage 1/28/2016 of Deborah singing her song as a backdrop to the third "Hugs Not Walls" event in which 350 families hugged for 3 minutes, in 35 successive groups from 9am-3pm. Human rights organization, Bnhr.org has been helping unite families who were separated some 10-50 years due to Border & deportation issues. 
~~~~~~~~~~~~~~~~~~~~~~~~~~~~~~~~~~~~~~~~~~~~~~~~~~~~~~~~~~~~~~~~
Musicians on the Studio Version:
Steve Schwartz: Guitar ~ StevesMusicCenter.net
Ken Windheim: Bass
Mike Cervone: Percussion
Dana Gabrielsen: Keyboard
Greg Fiske: Hard Drive Recordings/Engineer
You are visitor number: 835